The Sling-Light Chair
OK, people make fun of my chair, say things like "To find you, I will just look for someone with the lawn furniture strapped to their pack." and other witty sallies. Yawn. I get alot of humorous comments. Until they sit in my chair that is...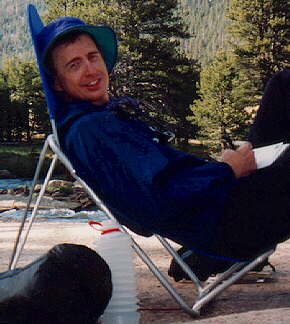 The Sling-Light allows you to fully recline with a head-rest, folds down to a packable shape and my home scale says the chair weighs ONE POUND! Check the other chairs out there and you will see they weigh alot more than one pound. Weight fanatics will go nuts at the though of lugging one more pound than necessary, but hey, I will leave my tent behind before I leave the chair behind. Heck, I can sleep in my chair, and I have.
As a matter of fact, I have seen someone using lawn furniture for their pack chair. When asked why, he said "Some trips are too long to go without back support." I have to agree. If the only way to get comfortable is to stand up or lay down, then you are in for an uncomfortable trip, and comfortable is what the Sling-Light is all about. It fully supports your back and rump, and your head as well with the detachable headrest. It is insanely easy to attach to any pack, internal and external. I have installed two straps and a buckle on my Dana pack, and it only takes a moment for me to attach or remove and deploy the chair. Morning pack breaks are a pleasure with a chair handy. And the chair has never a been a hindrance, even in the bush-choked Muro Blanco. As a matter of fact, the chair has been with me everywhere in the Sierra, from cross-country mountain passes to deep valleys, on summits, through bush and talus and rock carved tunnels, in snow, and down the length of the John Muir Trail. Not only am I a happy camper in camp, I am a comfortable one.
It is always a conversation starter as people drop by our camp to see where I came up with a chair way out there. When the conversation turns to my chair, for yucks I will (reluctantly) get up and pick up the chair with two fingers and hand it to them saying, "Check out the weight." Their eyes and mouths fly open when they hold this gossamer thing, then melt when they sit in the chair. That kind of comfort is rare 30 trail miles into the wilderness.
I will never give up my chair...unless they start making them with Titanium...
The makers of the Sling-Light can be located at:
FREEFORM R & D
1539 Monrovia Ave. Unit 23
Newport Beach, CA 92663
Phone (949) 646-3217 Fax (949) 646-3218

Website: www.slinglight.com/