Sierra Trails Links and Information
Similar interests links to other WEB pages.
---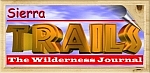 Links of Interest

If you like what I am doing here, you will LOVE what Mountain Images has done! Their CD-ROM called "Sierra Nevada" is a combination of maps, trail notes, and glorious pictures of the Sierra and more. I am a contributor in the latest version of "Sierra Nevada", so you are getting a sneak peek of my pictures with Sierra Trails. And that's not all! Just click on the link to find out what else is on the "Sierra Nevada" CD-ROM! Want to see what "Sierra Nevada" looks like? Then click HERE.
---
---

These people now make a version of what used to be The Nomad Lite bivy-tent, which I use!
---

The Sling-Light Backpacker Campchair



Kings Canyon and Sequoia Wilderness Hikes by Bill Finch.

---
Frank Farmer's Mountaineering Page.
Great Outdoor Recreation Page.
The National Park Service Home Page.
nationalparksfund.org
www.395.com Great information about the Sierra East side
---
D.W.Donehoo, Editor of Sierra Trails

Copyright ©; 1996-2010 D.W.Donehoo
Most recent revision December 3, 2009