North Fork Kings River Country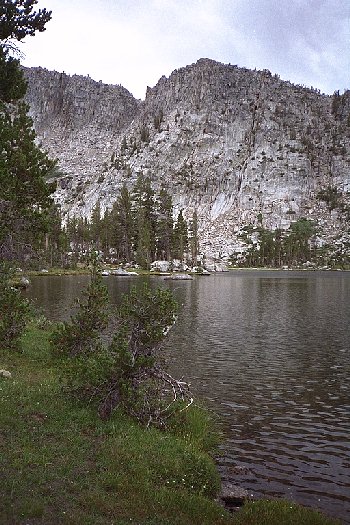 ABOVE: McGuire Lake as seen on a moody day. Even the darkening clouds and cold wind cannot dull the fact this lake is a real Sierra gem, worthy of a trip just to visit this lake.
The Bench Valley Trail
The Guest Lake/Bench Valley trail is only blazed with a sign declaring "This trail not maintained for stock use," marking the beginning of one of the steepest and laborious trail climbs in the region. It is recommended you begin your day with this climb when you are fresh, for the trail is overly steep, rocky, and annoyingly arduous. You could almost do better by ignoring the trail and finding your own way, but you might as well slog it out. Thankfully, the most taxing section is a relatively short section of the overall trail, and soon turns northwest to become merely strenuous and excessively steep in places. At 9200 feet, the trail switchbacks to the left and mercifully levels out on a forested bench. As you near the north end of the bench, there is a place to drop packs and take a break on a nearby open granite area for views down into the canyon and across to hidden Halfmoon Lake. Farther down the bench the trail crests a ridge of point 10482 and begins a descent into Bench Valley. The trail splits in two: take the left fork to an open granite point for impressive views of the North Fork Kings River canyon. (The last picture of the previous section: Part 1) The forked trail eventually becomes one and drops into the meadowed and mature forest of Bench Canyon. For a short distance you walk on a pleasant level trail among meadows and other low growth until abruptly the trail begins to climb steeply. The trail soon settles down to an easy to moderate climb, eventually leveling off again in another meadow and sparse tree shaded area. When the trail begins to climb again, it is the last pitch before reaching McGuire Lake. This trail section is excessively steep, rocky and switchbacked, but surprisingly short, with ample views up Bench Valley to admire during rest stops. When at last the trail levels out in young Lodgepole Pine, it crosses the outlet (a possible wet crossing early season), and follows the north shore of McGuire Lake, a beautiful two-part lake. Take some time to admire this Sierra gem in its unmatched setting, and give some thought to the good camping beyond the trail on the eastern-most shore.