The Ottoway Lakes Loop
Yup, that's me, getting some passer-by to take my picture at the start of this trip on Glacier Point. The views from this are some of the most spectacular in the world, let alone the Sierra. Behind me is a profile view of Half Dome (and Clouds Rest), from which the cover of this features a picture was taken from the top of "The Dome". Mere weeks from the time this photo was taken, this view was covered with snow. To see what this view looks like right this moment (daylight hours only), see: http://www.yosemite.org/vryos/sentinelcam.htm My trip 12 years ago to do the John Muir Trail started at this very point.

Glacier Point Start

The Ottoway Lakes Loop, September 2004

Special Note about the Cover: That is me on top of Half Dome looking down towards Yosemite Valley. I took the same exact picture of my brother to set up the shot. Please note the crazy people to the lower left of me with their legs dangling over a 3000 foot drop. Awww nutz....

Hiking in the Yosemite southern wilderness, starting and ending at Glacier Point. (H->4.7m) means "Harrison map says it is 4.7 miles".

As you can see, the gain and loss of altitude is exactly the same no matter what direction you go.

Check out the map by hitting the map button below. Profile from Mountain Images Sierra North and Sierra South.
Who Should Do This Hike?: This hike would best for a beginning intermediate (or better) who has done a few multi-day hikes and is ready for a hike that includes a major pass. It does not matter which side of the pass you are on if you catch some bad weather, you can get back downhill to a trailhead from either side. This hike is over 50 miles, so you must be in fair shape to do this: if you do it and end up with daggers in the sides of your knees half way through (out-of-shape-knee), then you were not prepared. Most experienced advanced hikers will judge this hike to be easy to moderate. I thought it was great fun.
Day 1 September 22, 2004: Glacier Point to Clark Fork. 7.2m 1383 foot gain 1460 foot loss (H->7.7m)
Bilbo Baggins birthday. My birthday. I came into Yosemite from Wawona/South Entrance (where I picked up my Wilderness Permit) and drove to Glacier Point, arriving about noon. I parked in the ample parking lot as near the trailhead as one can get.
Glacier Point is a well-developed area now (as opposed to some years ago when there was only a few paths and some scant iron bar railings). I remembered back when I was a kid down in Yosemite Valley one evening at a Rangers fire, when they yelled, "Let the fire FALL!" Looking up at Glacier Point, I watched as they pushed hot coals off the point to make the "Fire Fall". Unnatural, but very cool.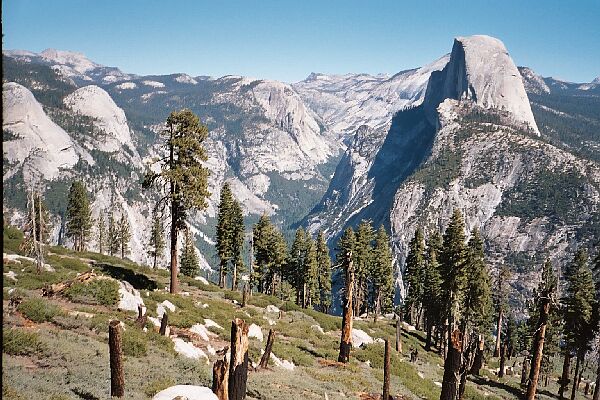 When the views open up and the shade is left behind, this is what you have to put up with. This is looking up Tenaya Canyon towards Mt. Hoffman, North Dome, Basket Dome, Half Dome, Clouds Rest (part), Cathedral Peak and so on...
Mounted up with pack and polls, I passed the new rest rooms and a small mob of humanity and headed to the trailhead. Already, the views over Yosemite were overwhelmingly impressive, and there are few sights in the Sierra that are its equal. A panorama encompassing over 60 miles of wilderness from horizon to horizon is laid out before your eyes with some of the world's most famous landmarks seeming close at hand. The queen of landmarks, Half-Dome, looms before you like some monstrous fist of God, flanked by the nearly equally as famous Nevada and Vernal falls. Tenaya Canyon, Basket Dome and North Dome (where John Muir formulated his Yosemite glacier theories that drove J. Whitney to distraction) holds down the left flank of the scenery while my goal, the Illiloutte Creek drainage occupies the right flank.