A Solo Hike Along the Silver Divide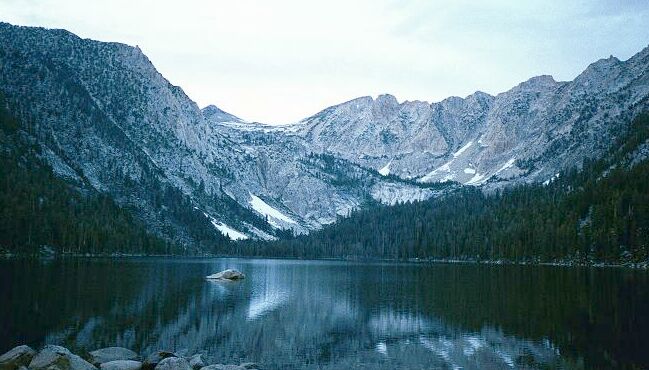 I arrived at Devils Bathtub one evening in a mood as blue as this picture. I felt much better the next morning.


A Detour to Devils Bathtub

Silver Divide Trip from Edison Lake Trailhead, August 2001


At this point we will take a little detour to Devils Bathtub. I had intended to do another trip in the area, but for undisclosed reasons, I was not able to make it. Instead I went to Arrowhead Lake, with a stop at Devils Bathtub, a place I have been to before.

Morning at Devils Bathtub. Well to the left are good campsites in a rocky area.

As you can see, it is a worthwhile trip, and recommended if you are getting to the trailhead late. It only takes one to two hours to get there, depending on your pace, and is an easy fast hike. Stream crossings may slow you down some, depending on the season and conditions.

A classic glacier formed lake with distinct lateral and terminal moraines. Graveyard Peak is on the right. That canyon needs exploring some day.

There is ample camping at this lake, with plenty to do and places to explore. Bagging Graveyard Peak from this lake should be a snap. There are plenty of fine views from the trail leading to this lake too. The trail to this lake starts out very level and gradually begins to climb. At one point the climb is fairly steep for a bit before turning to the right to edge around a small bowl and shoulder with nice views. The rest of the way is a fair slog that becomes rather nice as it pulls up to the outlet stream and follows it up to the lake. Good camps are to the left of the outlet.