Kern-Kaweah and Kaweah Basins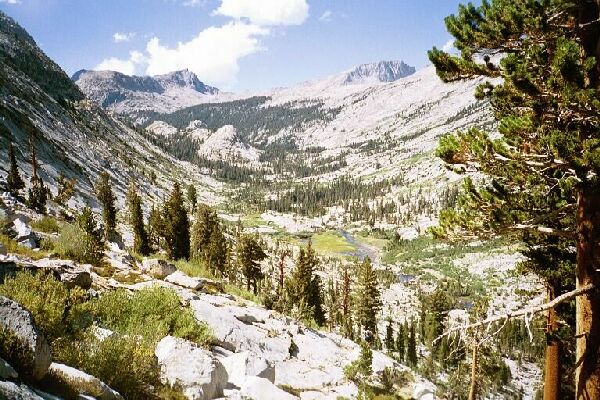 Looking back along our route we could see where we had been. To the right of the dome near mid-picture was our camp and meadow which is not visible at this point. Below is the meadow we passed on the trail, and below that the stream ford. The low point on the horizon is Colby Pass.

Cross-country Mountaineering

Kern-Kaweah and Kaweah Basins via Colby Pass, September, 2000.

Towards the end of the rough meadow we found a good place to cross the stream to top off our water. From that point out route would be a diagonal traverse upward to our left going down canyon on the slopes of Picket Guard Peak. The grade and terrain along the tree and rock studded route looked very manageable if we used a little prudent route finding. The way seemed obvious, leading up to a shoulder of the ridge above us and close to a lake I saw on my map. From there it looked to be easy to get to Kaweah Basin via a col.

A rough line of trees can be seen going diagonally upward from right to left about mid picture. This was our route, and a fairly easy one at that. Oh it was work, but manageable work.