A Backpack to the Remote Lyell Fork of the Merced River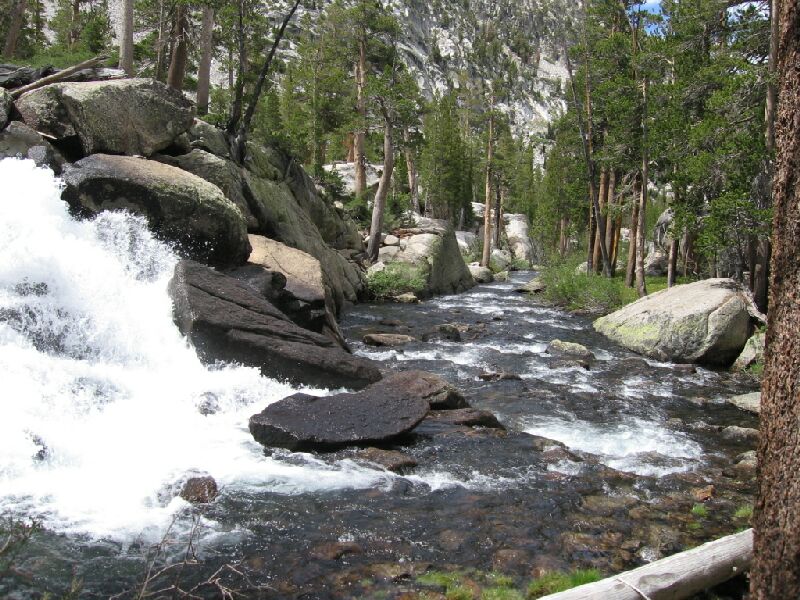 Right about here a trail forms on the right and follows the stream downward a good ways.
Waterfall Chute
A Trail and Cross-Country Route to the Lyell Fork, July 2007
After lunch, we headed over to the gully-barrier and followed it downhill to a waterfall. Here we found the only solid trail in the area, which followed the gully and stream to a point where the granite wall on our right lowered to a point to walk over. From there we headed gently downhill on mostly large areas of flat unbroken granite. This was becoming uncomfortable for me because of my impacted left large toenail: that means it hurt. The walk seemed to take a while, but eventually I saw a sawed log ahead, which usually means trail-sign. Sure enough, as I got close to the sawed log, I spotted the trail. Dave did not seem in a mood to check out the ford, so I took a right uphill on the trail.
From the calm waters of the western meadow, the Lyell Fork takes a sudden drop.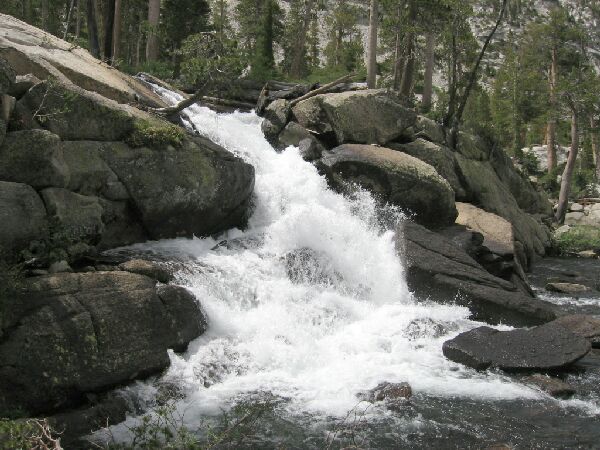 Another look at the falls before leaving the Lyell Fork behind.
It did not take long to reach our loop-point where we mounted a granite ledge and followed the trail back to camp. Back in camp, I was glad to get my boots off so I could treat my toenail, which was killing me. I sat down with scissors, clippers, pads, duck tape and anything else I could get my hands on and set to work on the toe. Pretty soon I had it fixed up and feeling better, but it would be trial of a trail on the way back, especially downhill.