The Ottoway Lakes Loop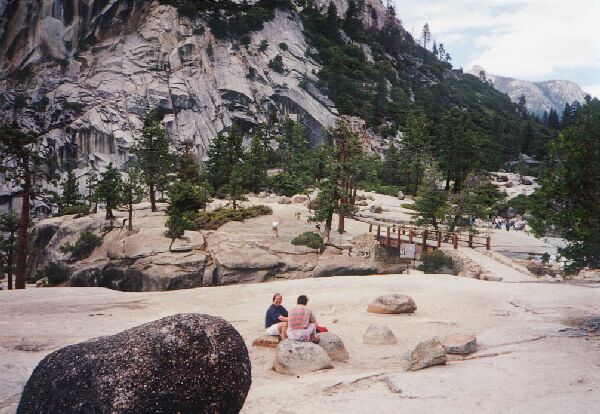 The bridge over the Merced River and Nevada Falls, below Liberty Cap. In the distance on the right, Clouds Rest.

Nevada Falls

The Ottoway Lakes Loop, September 2004 In due time I reached the top of Nevada Falls, one of my favorite spots in the Sierra.

I have been to this spot dozens of times in all seasons and I never get tired of visiting. One time I came up here in winter and sat on a four-foot high pile of snow on the bridge over the river. I have been there by every route available: from Yosemite Valley, from Glacier Point, from Clouds Rest, from Tuolumne Meadows, and now, from the Ottoway-Merced Canyon route. From Yosemite Valley there are two ways to get up there: from either side of the river. The (southern) John Muir Trail is the easiest on your body, while the northern trail is more interesting.

My favorite rest-stop here. A great place to lean your pack and sit down. The point out there is Grizzly Peak, and there used to be a trail to the top: maybe it is still there in parts. In the distince is this days destination, Glacier Point.
After crossing the bridge, I dropped my pack on the slab granite where it has a nice shelf for leaning the pack against. I walked over to the brink and took in the view below.
Below the falls there is flat at 5291 feet above Emerald Pool and the bridge, where in the 1800's a hotel once stood in the time of John Muir. Little remains in evidence of its passing. Hidden from sight was Emerald Pool where I broke my arm while lining up a camera shot, and from that came my primary Wilderness Rule: "No Gawking While You Are Walking!". After I broke my arm, I drove back home and boy was it hard shifting gears. The next day my arm was in a cast. Ahhh, good times....