The Ottoway Lakes Loop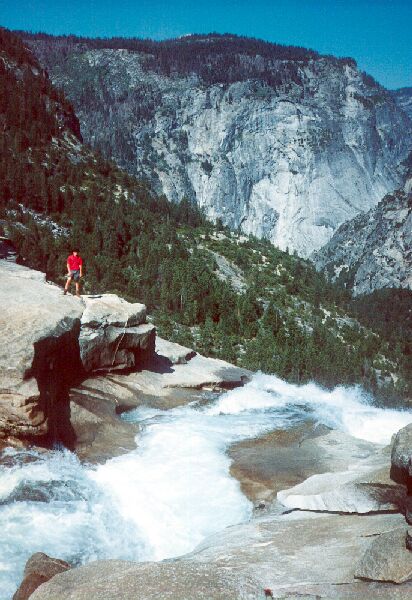 This was shot in early season at the brink of the falls, and this just about as close as you dare come. On the upper right horizon is Glacier Point. There is a fenced in view-point off to the right.

On the Brink of Nevada Falls

The Ottoway Lakes Loop, September 2004 The falls to my right was a shadow of its spring self, but still a sight to see. No matter what time of year it is, one should stay clear of the water above the falls. Do not underestimate the power of flowing water. Just stay out of the water and away from wet rock. Black seeps are as slick as ice. Just play it safe and stay away from the water. There is a sign there that says that if you go over the falls, you will die. I lost a friend long ago because he was swept over a fall.

The river cascaded over the first brink into a pool and then dove over the main fall brink and plunged 700 feet to the rocks below.

Another fun thing to do: I crossed back over the bridge to the north side of the river and went down to the cliff railings next to the falls and checked out the views. At one point in the past similar railings were at Glacier Point.

After an acrophobic view down canyon, I returned to my pack and hit the trail.