Woods Creek and Lakes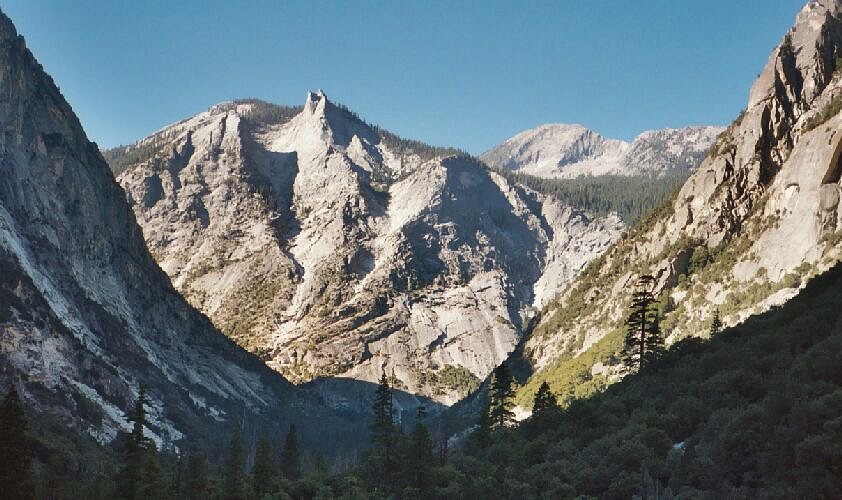 On the way to Paradise Valley, you can look back towards "The Sphinx".

Paradise Valley

Woods Creek and Lakes, SEKI, Spring 2005 Hiking up the South Fork Kings River and Woods Creek to Woods Lakes, starting at Roads End Kings Canyon.

From the Kings Canyon TH at Roads End to Woods Lakes. In a word, uphill all the way to Woods Lakes with a two "level" steps thrown in. An even 20 miles to an even 11,000 feet above sea level.
Who Should Do This Hike?: Without a doubt, beginners can do this hike, but should take more time doing it. They should plan for a stay in lower or middle Paradise Valley and at the PCT/JMT Woods Creek crossing (or lower). Fit and experienced hikers can do this hile as a long weekender. Those with more time can explore "Window Basin Lake", "Clarance King Basin Lakes" and "Kid Creek Valley".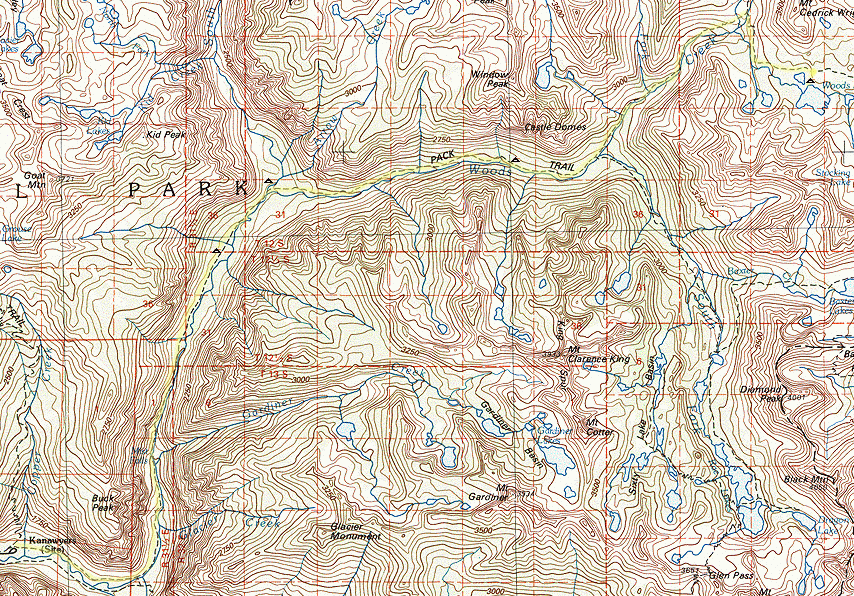 20 miles of trail one way on this trip, most of it well traveled. Really fit backpackers can do this hike in 4 days.
DAY 1, 8.8 Miles and 2600 feet of gain.
We did this hike mainly to explore other possibilities which did not turn out, and ended up doing this hike instead since it was on our "things To Do" list. If I knew what I do now, we may have done something different. Oh well.
I covered this first part of the trail elsewhere ( http://www.sierra-trails.com/sphinx/sphinx2.htm ), about 2.2 miles of fairly level sandy track. At one point you dip down into a shaded lush area just before the large steel bridge over the Kings River. Taking the left fork to Mist Falls, the trail climbs a bit, but is only a warmup for the real climbing ahead.
The real trick to getting up to upper Paradise Valley on the first day is taking your time. Unless you get a very late start, just stroll the first part and rest at the bridge. Continue to take your time and rest again at Mist Falls. After that, do a leasurly chug up the switchbacks all the way to lower Paradise Valley and rest again. After that, pick up your pace (except for in the few steep sections) and soon you will be in upper Paradise vally and its many campsites in good shape. If you do poop out along the way, there is camping in lower, middle and upper Paradise Valley.