The Benson Lake Loop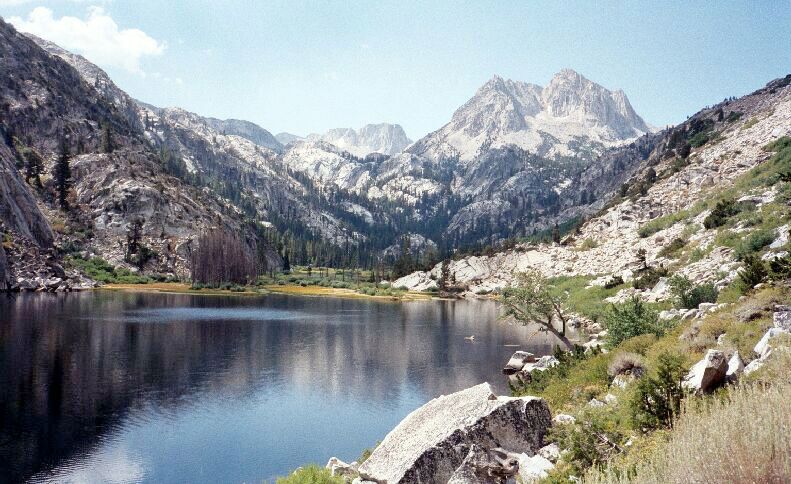 I have seen pictures of this lake and view, so I was really looking forward to getting some pictures of my own. As you can see, it lives up to its promise. The trail used to edge the meadow ahead, but they rerouted to provide the hiker with some pointless altitude gain and switchbacks. However, the old trail was probably prone to being soggy and overgrown. The high peak ahead is Crown Point, and below to its left is The Juggernaut. One guide book refers to the group of dead trees mid picture as a "Ghost Forest".

Barney Lake

The Benson Lake Loop, August, 2002 Just beyond the wilderness sign (already I had walked a good distance) the trail began a more vigorous but easy climb, first heading left a bit then swinging around broadly right before heading back up the canyon. As I neared the first scenic stop of the day, Barney Lake, I saw the first campsites of the trip on my left, as well as what proved to be an abundant eyesore: a plethora of ugly yellow "No Camping Here" and "No Campfire" signs nailed to nearly every convenient tree in sight. Even in places where camping would be obviously legal, at least to a sane and reasonable person, there where the ubiquitous and unsightly signs.

Barny Lake was all I hoped it would be as a scenic stop, despite the abundant silly signs. Crown Point was reflected in the calm waters of Barney Lake, revealing an especially scenic view of the Sierra Crest. The beach was small but sandy, and a hot day would beg you to take a quick dip. The lake just seemed cozy. With all the "No Camping Here" signs, it was obvious there could be no camping at Barney Lake itself, but only way further back away from the lake.

One good thing about the area: the trails were in fantastic shape, much better than in the National Parks. All steep sections were very short and well made with extremely well graded and maintained trails throughout the area. They were impressive.

Looking back down canyon from the same place the picture above was shot. A fair view of the long beach of Barney Lake and the graceful curves of glacier shaped walls of the canyon. The rocky domes mid picture I would classify as Roches Moutonnees ("Sheepback Rocks"), which resisted erosion of the glacier that once dominated this valley.
Leaving Barney Lake, the trail was rerouted away from the meadow beyond the lake to make sure the hiker did a lot of unnecessary climbing and descending. However, the lofty trail allowed for great panoramic views up and down the canyon.
After climbing up the canyon wall maybe gaining about 100 feet with a few switch-backs thrown in, it switch-backed down again to the end of the canyon and to the canyon floor where it was probably only a few feet above the Barney Lake water level.